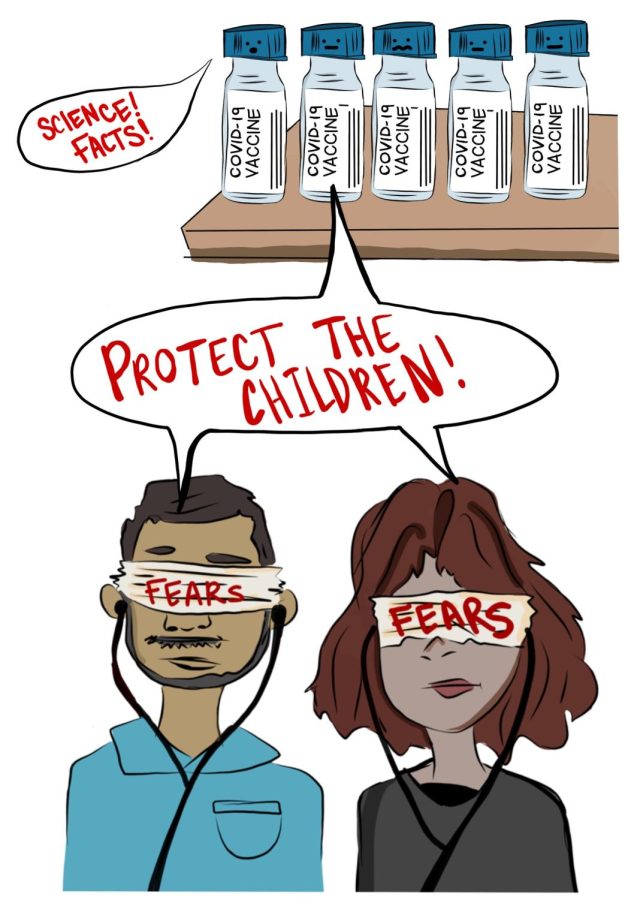 Early in October, California became the first state in the country to announce future COVID-19 vaccination requirements for schools. Governor Gavin Newsom explained that this mandate will add COVID-19 vaccinations to  the existing requirements for vaccinations against measles, tetanus and others. Seems straightforward, right?
But the announcement prompted mixed reactions, ranging from outrage to "finally".
At Eastside, we are fortunate to attend classes in a school community that is 95% vaccinated, thanks to unceasing efforts by the school administration to promote vaccination opportunities and provide resources for Eastside faculty, students and families. A white tent stands between the office and the science wing, so far we've had 3 cases. As a result, Eastside students have been able to participate in activities like sports and field trips that might otherwise have been off limits.
The new mandate applies to younger students, too, as the vaccines are steadily being tested and approved for use in children. But some parents continue to worry about side effects while others are confused by the flood of information and mis-information swirling around the vaccination.
The Eastside Panther editors urge students and their siblings, cousins and extended families to get vaccinated, not because it will be required by the state in order to attend school, but because accurate information is available and an informed decision can be made.
Are you worried about the upcoming mandate? We ask you to speak with your doctors and pediatricians to discuss your concerns and ask your questions. Are you outraged at the government taking this step regarding something you consider personal? Go read the  resources available on the CDC and FDA websites — this is a matter of public health, not just private care, and all of us have to do our part.
Finally, parents, listen to your kids with an open mind. Parents still have to approve the vaccination for their children, and some Eastside students have said that parental opposition is why they aren't vaccinated yet. But as high school students, at most four years away from being adults, this is an optimal time for us to practice making informed decisions. Whether deciding to get vaccinated or start dating or even to get a pet, these decisions will become ours to make. The Eastside Panther editors urge parents to let students take the lead, and for the whole family to become informed of the solid science behind the drive for COVID-19 vaccination.