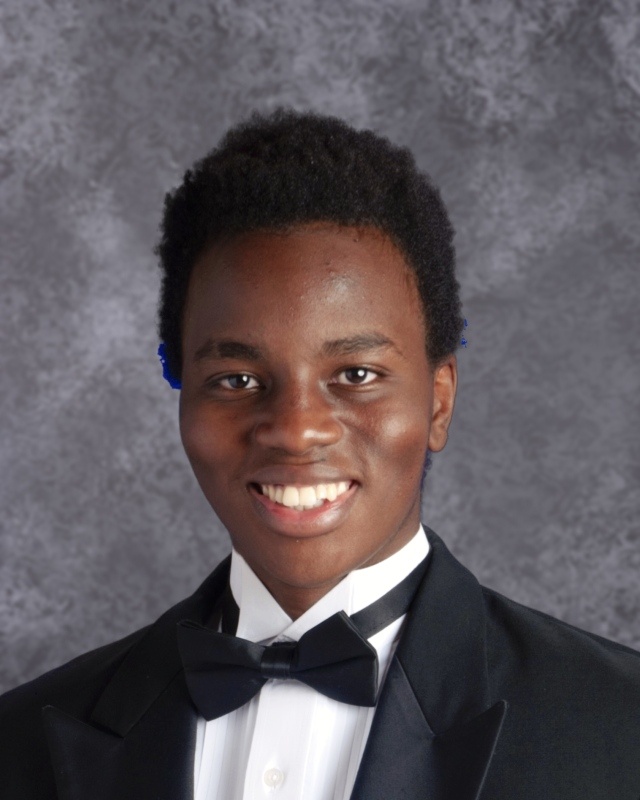 Photo by Lifetouch National School Studios Inc.
Erastus Kinyua
Senior year was nowhere near what Erastus Kinyua had planned. In fact, it was very hard.  
It felt like senior year was ruined, with everything moved online, away from friends, right when they were supposed to be enjoying their last year of high school. 
"Those connections you make when you're about to leave, I didn't have that," Erastus said.
 Erastus persevered. He pushed through distance learning, he pushed through the boredom of quarantine, and he pushed through his senior year.  
Erastus didn't do it all by his lonesome though.  He credits his family for helping him push through when he felt like quitting, 
"At the points where I wanted to give up, they gave me advice or told me to push on or helped me get better in some ways to keep myself motivated," he said. 
One piece of family advice that helped Erastus get through lots of hard work was, "If you're not feeling it, just take a break in order to refresh your brain so you don't have to keep working under stress, and at a later time you have the mental capacity to do whatever you're trying to do."  
Erastus' cousin, James Kuria, a freshman at Eastside, has been impressed by Erastus' accomplishment. 
"He's the first person in our family to go to an actual good college," James said. "He's hella smart, he does nothing and he still passes all his classes."
Darren Chan, the Head of Residential Faculty in the dorms knows Erastus better than most of his friends do, since Erastus has been part of the dorm program for all four years.
"Erastus is the guy that everybody stays in touch with," Darren said. "When I talk to other guys in his cohort, the other senior guys in the dorms, and I ask them 'Who're you staying connected with?', they almost all say Erastus." 
As he heads to college, Erastus has mixed feelings about leaving Eastside, and some advice for rising seniors:
"Just because it's your last year, there's still a lot of work to do," he said. "I actually think that senior year is probably harder than junior year."
But overall, with California State University, Sacramento on the horizon, he feels excited.   
"I get to explore and go on my own," he said, "and I get to go to a new school and form new relationships."