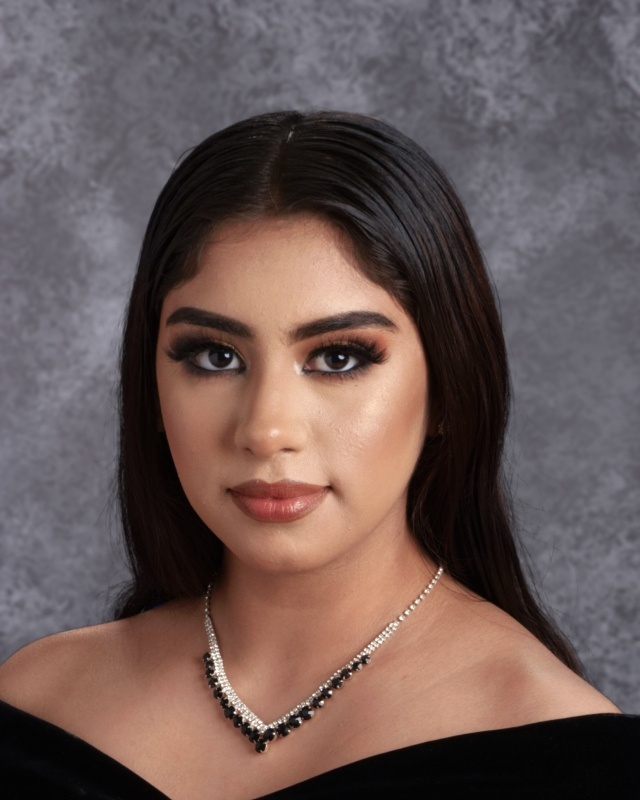 Photo by Lifetouch National School Studios Inc.
Evelyn Ibarra Gutierrez
Online learning has hit everyone,  but for Evelyn, it came with a silver lining:  She improved her skills as a critical learner, learned to prioritize her time effectively, and generally became more independent. 
Like many students, Evelyn created a new way to stay on track with assignments, so, for the majority of the time, her experience felt easygoing.
"Due to COVID, we are able to have a skeletal structure and gain more flexibility," Evelyn said. 
Evelyn has had an interest in science, ever since she first encountered  a real animal brain and spinal cord in middle school. She has been intrigued by the liveliness of how the human body functions. She pursued that interest during the summer after freshman year by taking Foothill Psychology, and especially enjoyed the unit that focused on the brain. 
"I remember we made a brain with paper — it was a hands-on project and we had to color code everything on the paper brain," Evelyn said. "I think it gave me an insight into what I will be interested in to study in college."
"I am very happy because I will be my own individual and study something I am interested in," Evelyn said.
Evelyn's biggest inspiration has been her parents. She is inspired by their hard work and the amount of effort they've put into their lives. Both of Evelyn's parents pushed her to be the best version of herself. A motivational saying that Evelyn's mom has told her countless times is "El que quiere puede" which means whoever wants it, they could accomplish it. 
Putting that attitude into action, this year, Evelyn  won the Advanced Chemistry Honors award from Heather Cooke.
"Evelyn has grown both as a student and as a person over the last three years that I have known her," said Chemistry teacher Heather Cooke.
All of the great memories she has made with her friends and family is something that Evelyn will never forget.
"She is a friend that cares a lot about you and she does everything she can to help you," said close friend Nia Bostick. "She is definitely the mother of the friend group."
Evelyn will become the first in her family to attend four-year college when she starts as a biology major at University of California, Merced in the fall. The main factors in her choice of college were the campus size and her intended major.
"I am very happy because I will be my own individual and study something I am interested in," Evelyn said.