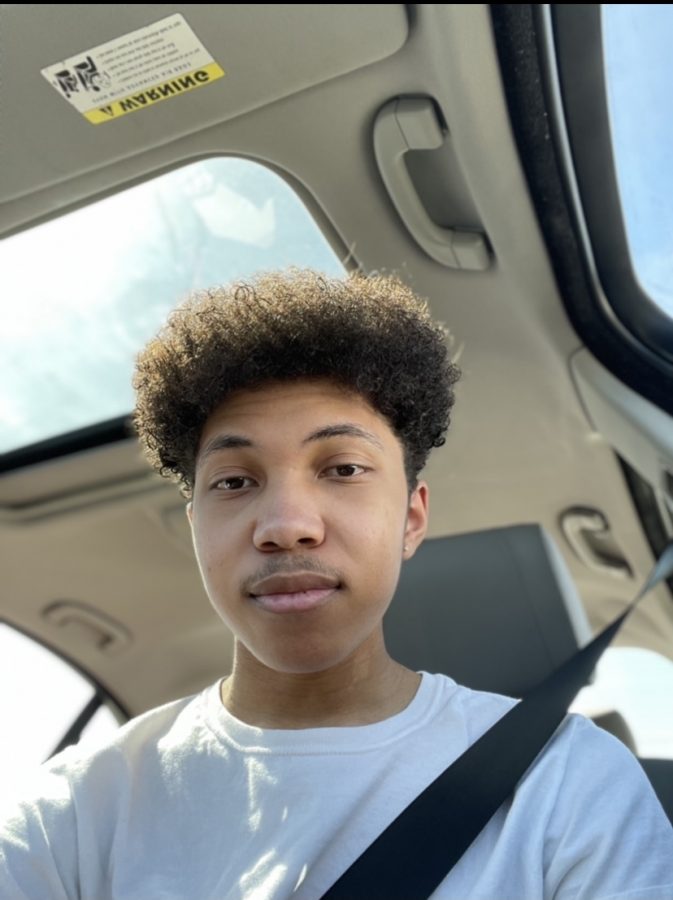 Jaylen Wells
Laser-focused, good listener, relaxed — these were among the words that Jaylen Wells' peers and teachers used to describe him. 
Jaylen first heard about Eastside through the Boys and Girls Club and decided it would be a much better opportunity than public school. He grew to make many long-lasting relationships, which is one of the things Jaylen will miss when he leaves.
"Apart from memories, probably my friends and the staff who helped and supported me," Jaylen said, explaining what he would miss most.
Jaylen was always very smart, but he grew academically and socially in high school. 
"I was very nervous to meet the new students and make friends," Jaylen said, describing his first day at Eastside.
Jaylen's personality at school is valued by his friends, seniors Abraham Bojorquez and Million Jackson. "I think we both are kind of low key, I might be louder but we kind of just take it easy," Abraham said. "We get along well and we don't really have to explain what we were thinking, we just kind of know sometimes." 
Million recalled favorite memories from the dorms, like hanging out during free time after playing basketball, and just watching youtube or doing something else together. 
"It didn't matter what we were doing, we were always having fun," Million said. 
Abraham appreciated that Jaylen was always there to listen and help. 
"The amount of times he helped me in Math was crazy," Abraham said. "I knew I could count on him to explain a hard concept to me."
Math teacher Hai Tran is grateful to have had Jaylen in his class and is stunned by his growth.
"Jaylen thinks aloud, from being clear in his confusion to the moment when he discovers how to get unstuck," Hai said. "I can hear his epiphanies through his language and reaction — which is great." 
Jaylen's focus in class was notable, and he earned Eastside Honors this year for his work in Math and SRI. But Hai's favorite moments with Jaylen were the moments that made him laugh. "Jaylen does not laugh easily (or my jokes are just not funny to him), so when I get him to laugh or smile one time a year, it is my favorite memory with Jaylen," Hai said.
Darren Chan, Jaylen's dorm Residential Faculty and C&A teacher, was one of his great mentors. Darren admired Jaylen's habits of work and described him as a "no-nonsense kid" who understood his objectives, knew how to do his work, and handled his business and his responsibilities.   
"What I always appreciated about him is his incredible work ethic," Darren said. He "doesn't complain. Really gritty." Darren also appreciated that Jaylen never was discouraging to others.
"Something that is really special about a kid like Jaylen is I think he knows he's a really solid student but he's really humble about it," Darren said. "He was never looking to be boastful about it and doesn't brag about it."
Darren's most recent favorite memory of Jaylen is when he received his letter of acceptance from his dream university, the University of Southern California. 
"Usually, he's mellow but this time seeing him smile ear to ear and seeing him genuinely excited made it a really joyful memory," Darren said. 
As Jaylen prepares to move to USC in Los Angeles and major in Health and Human Sciences, he values his learning and experiences at Eastside and is excited and happy to learn more about what interests him, gain independence, and open the next new chapter in his life.