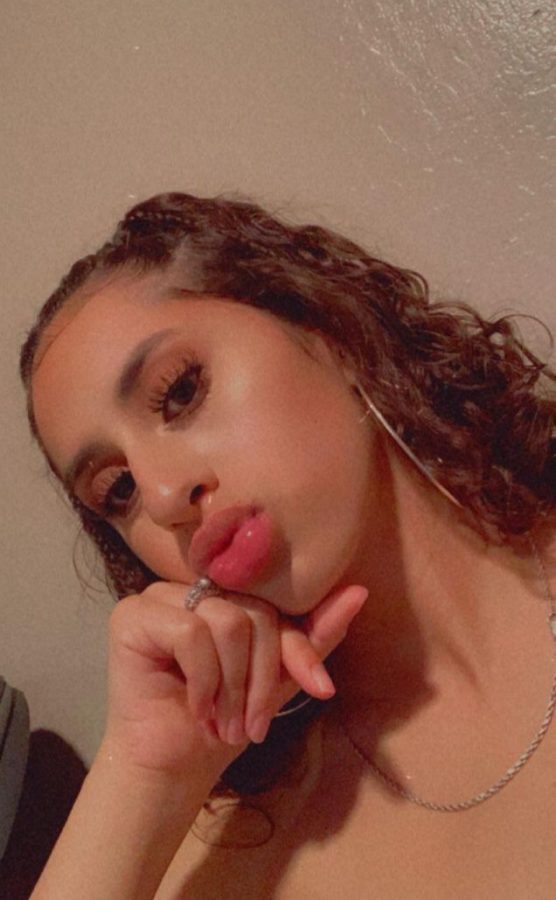 Maria "Lupita" Madrigal Landa
When you see Maria "Lupita" Madrigal these days, you don't imagine she was shy and quiet when she first started at Eastside. She pushes herself to go above and beyond, and challenges herself as a student. 
One of those experiences makes her feel especially proud. Lupita participates in and has run the Gender and Sexuality Club. Throughout the years of running the club, she gained more self confidence and self appreciation. Lupita feels proud to have helped provide a support system for students in the LGBTQ+ community. 
"I was able to be myself and share my story," she said.  
In addition to being a role model for other students, Lupita also spent the past three years playing soccer. Lupita will be remembered as an outgoing and loud person. 
Lupita's personality at school and during electives is valued by her best friend, senior Arianne "Nani" Delgado. Nani says that Lupita is nice and outgoing, but around teachers she has a filter and becomes more serious and intensely involved in the topics of discussion. Nani appreciates every memory  they shared, whether in or outside of school.
"I feel like every moment I spent with her was priceless," Nani said. " I have never had a dull moment." AP Language teacher Sarah Kreiner is amazed by her growth and how far she has come as a writer and person. 
"She is a much more confident and adaptive learner now," Sarah said. 
Sarah describes Lupita as candid, someone who develops strong opinions about a reading, and feels passionate about her opinions. Sarah said it has been a pleasure having Lupita in her class, and watching her act around with her peers. 
"She loves to laugh and gently tease her peers," Sarah said.
"She also has strong friendships, a role model for her strong sense of identity and openness in sharing with others about her journey." 
Even though she feels sad to be leaving Eastside, she has valued her time, learning and gaining independence. As she prepares to start a new chapter in her life studying nursing at California State University, East Bay, Lupita feels confident and excited.