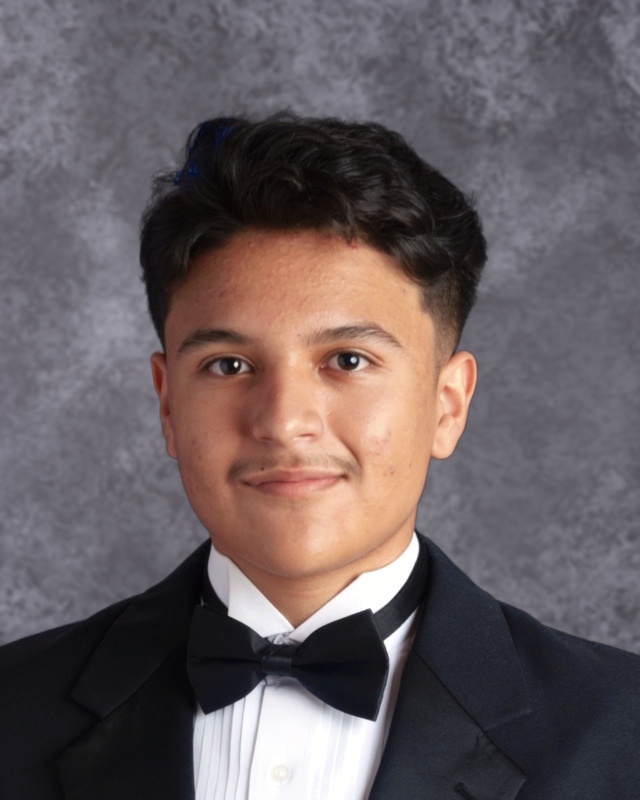 Photo by Lifetouch National School Studios Inc.
Moises Bravo
Moises Bravo first heard about Eastside through his older sister. Based on her experience, his first impressions were that it was "rigorous and hard".
When he came to Eastside, however, he received a lot of support from his teachers and teammates, which helped make the transition much easier.
"I like the amount of support the teacher gives you," Moises said. "For example, Cal —  I could ask any question about writing, and Sarah, too."
Moises has some advice for incoming seniors: Don't procrastinate and do ask teachers questions when you need help.
"Make good relationships with your teachers because if you are closer to them, they will be more lenient, try to make connections so they know where you are coming from," Moises said. "Do your homework early."
Many of Moises'  friends and teachers see him as happy and fun, even while still working to improve himself academically. 
"Moises grew the most during the second semester of 10th grade, when he focused on his study habits and prioritized learning in Algebra 2/Trig," said AP Calculus teacher Hai Tran. "Moises did not change his personality and become serious, but rather, he knew when to be focused and when to be silly."
Many friends describe Moises as outgoing, funny, and overall a great guy to rely on.
"I miss Moises and wanted to let him know, and remember him as someone who is a really good friend," said close friend Jose Brambila. "Moises can be deep at times and have deep conversations, he is good with his words and tough situations."
Moises played many sports in high school, including Cross Country, soccer team, track & field, and strength & conditioning. His favorite part of these activities was seeing his improvement as a student athlete.
"I liked cross country. At first I thought I was a slow person but I tried a lot during practice," Moises said. "I remember on a 3-mile race, I was bleeding through my nose, and seeing everyone cheer me on made me pass the next person and finish strong."
Moises said he will probably carry on these habits and skills in college but not train competitively.
Moises makes sure that his studies are his first priority, so he chose his college with an eye on the support and connections it offers. Moises will head to University of California, Davis as a Chemical Engineering major.