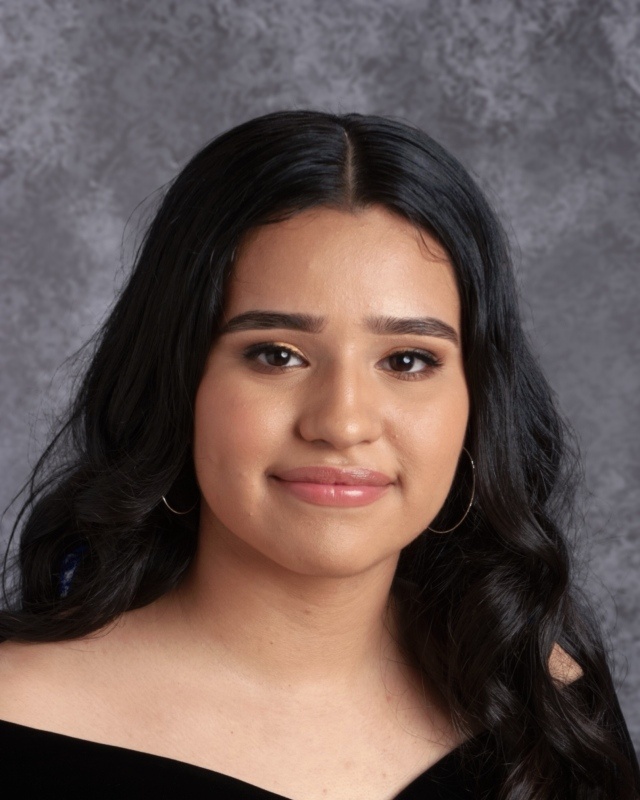 Photo by Lifetouch National School Studios Inc.
Samantha Velazquez-Mendoza
A fun-loving spirit hiding behind a quiet shell is the best way to describe Samantha "Sam" Velazquez. Passing by her in the halls, you'll be guaranteed a quick wave, but a conversation lets you see her vibrant yet wise personality. 
"She might seem quieter on the surface but has a great sense of humor and inherent curiosity about the world around her," said her advisor, English teacher Sarah Kreiner. 
Sam found a love for traveling when she spent her sophomore summer in the Dominican Republic through the Amigos program. 
"I went as a volunteer and I taught a class to a bunch of little kids about leadership," Sam said.
When she wasn't busy teaching the children, Sam got to explore her brand new surroundings in the Dominican Republic. 
"Some of the people I met really liked dancing and they were trying to teach me how to dance bachata and merengue and stuff like that," Sam said. "Or sometimes we would just sit with our host mom and eat a bunch of mangoes. The food was so good, though, I wanted to take it back."  
Spending her days in the sun getting to eat so much delicious food, especially mangos, opened Sam to her passion for traveling the world. 
"I already knew that I wanted to travel but when I went to the Dominican Republic, it really reinforced that feeling for me," she said. Sam hopes to one day get to explore more places like Paris and London. 
Sam's open-minded attitude also has influenced her friends. Senior Arianne "Nani" Delgado said she learned to keep an open mind about everything around her from seeing Sam do so. 
Learning to hear everyone's perspective and not listen to rumors passing by is something that most people find difficult, but it's something that Sam has always made sure to do.  
"I admire her uniqueness," Nani said. "I haven't met a person like Sam". 
Having been at Eastside for middle school, Sam had the upper hand when it came to making friends freshman year. Her middle school friend group stayed together for some time and that also allowed her to meet classmate Angelica Bac Vazquez, who would become one of her closest friends. 
"She's done a lot for me and I really appreciate that," Angelica said. "I'd always go to her and she'd give me advice and tell me to do whatever my gut tells me, it's your choice and you'll make the right choice in the end. She makes me believe in myself and avoid self-doubt."
Sam is sure to continue to spread her positivity and wisdom to everyone she meets, everywhere she goes. She has committed to attend California State University, Chico where she will start this fall undecided as to her major, but with an interest in biology, criminology and learning a new language.