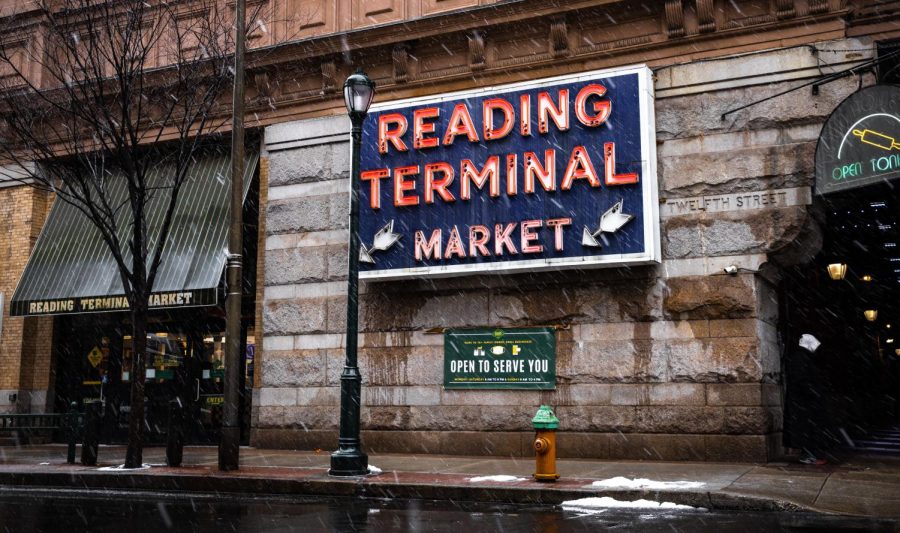 Philadelphia 2021: Untold Stories from the Reading Terminal Market
At the NSPA high school journalism convention this year, an advanced reporting workshop called "Streets of Philly" sent student journalists to  report at the Reading Terminal Market, one of the largest markets in the state, about how Covid-19 had affected business owners and customers over the past two years. Students from schools across the country were put in groups together and assigned to produce an article based on what their reporting uncovered.
We were moved by the experience of talking with strangers and discovering that everyone has their own story to tell. But some of our reporting never made it into our workshop articles. We felt that these stories still deserved to be told, and that Eastside Panther readers might appreciate hearing about these ordinary people who have been striving to keep their spirits up and their businesses alive, just like the people we know here at home.
Here are some of those untold stories.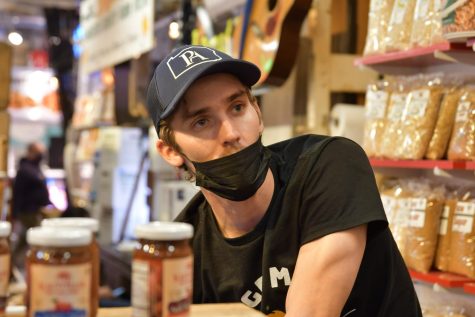 Kauffman's Lancaster County Produce 
Amos Kauffman, now in his late 20s, has been working at the Reading Terminal Market since he was a young boy. His father started Kauffman's Lancaster County Produce  about 30 years ago after working for another business in the market. Kauffman's is unique to Pennsylvania, selling a variety of different snacks and produce that all come from the Amish communities in the area.
Amos said Covid-19 had struck his business hard.
"We were selling a lot less because we didn't have the tourists," Amos said.
Now, though, Kauffman's is back – selling not only to tourists, but to loyal customers who frequent the Reading Terminal Market and kept the business afloat during the pandemic.
Sweet T's Bakery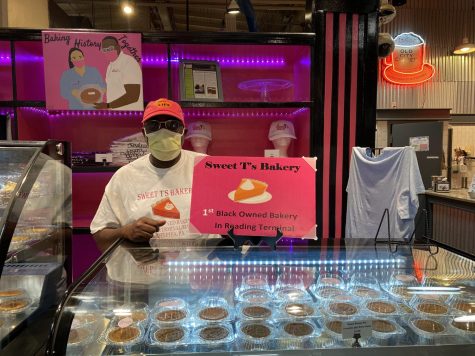 Mark El and his wife, Tia El, run Sweet T's Bakery, which specializes in sweet-potato based sweets and pastries, and is famous for its sweet potato pie. Tia focuses on baking while Mark handles the business side.
Despite many in the terminal market having to readjust their selling strategies or timing due to the pandemic, Mark described the pandemic as a "small disturbance" that did not change his business at all. He said he felt "blessed", recalling his 28 years in the market as "history in the making": Mark is proud to run the first black-owned bakery in the market, and doesn't let the pandemic take away from their accomplishments.
Sweet Nina's
Known for its "amazingly good" banana pudding, Sweet Nina's, a Black-owned banana pudding business, has been around since 2017. The business started in a mobile cart, but is now expanding from a market stall to a much bigger space, said owner Nina A. Bryan.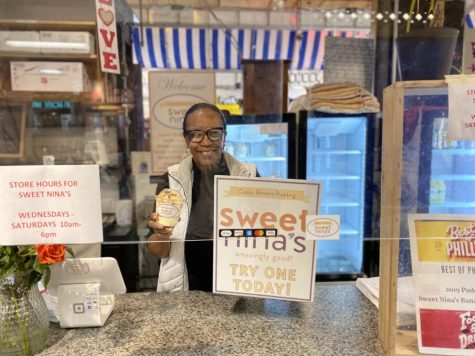 Nina said she follows her 102-year-old mother's recipe, which turned out to bring great success to her business. She was first inspired to create the business when her mother couldn't afford a mixer for the whipped cream the pudding required.
With COVID, Nina's business was put on pause. She had to learn to change her packaging and also add elements to her store such as divider panels to keep things sanitary.
"The equipment has affected us economically," Nina said. Covid's impact was notable because "the market depends a lot on our business from conventions."
Nina also struggled with the availability of some key ingredients, which she usually had to travel to obtain – Nabisco wafers, for example, were expensive and hard to get for a while.
Despite those challenges, her famous banana pudding and others were named 'Best of Philly' two years in a row, according to ABC news. ABC recognized her in May 2021 for this achievement and applauded her as a Black woman entrepreneur in the market.
As with many other businesses there, Nina adapted to selling online, becoming able to expand to a bigger spot in the market.
"In spite of COVID, we are realizing the continuation of a business that we started four years ago," Nina said. "And what can I say? That's what I couldn't say."
Chakir Little Marrakesh Bazaar 
Walk through the market near the food area and you will find a small shop selling unique handcrafted goods from Morocco. Little Marrakesh Bazaar is owned by Chakir Bouchaib, who has been working in the market for almost five years. Chakir travels between Philadelphia and Morocco to buy products and bring them back to sell to customers in Reading Terminal Market.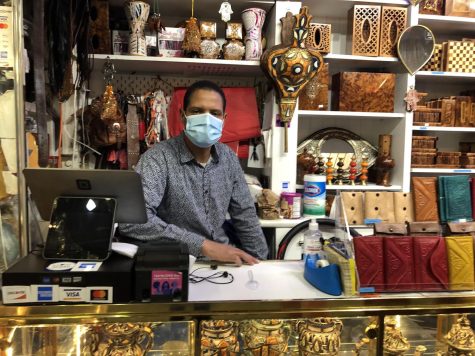 As with many other businesses, Chakir has had to adapt to changes in the market. When the market closed at the start of COVID-19, he had a tough time. He noticed a slower pace and fewer people, which meant less sales. In order to stay in business, he had to try to reach more people through social media to tell them about what he had for sale.
Only after the vaccine did the picture change, and he saw a big uptake in the number of people coming into the market.
"It's great," he said about the vaccine. "I got my two vaccines already, so I'm waiting for the third one – I'm excited for it, I feel like it's accurate and I trust the associates."