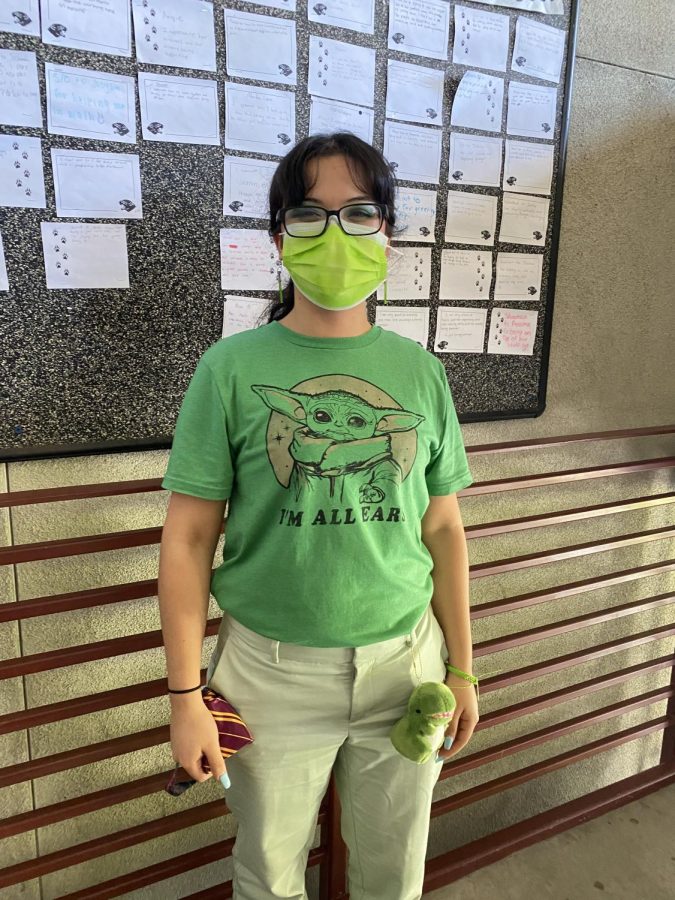 Photo by Azeneth Rocha Coronel
Nohely Peraza: Welcome Back, Grads Returning as Staff
When Nohely Peraza was in ninth grade at Eastside, she was called to the front of her World Literature class by her teacher to share her work.
"I remember being at the front of the room, it was something scary and exciting," Nohely recalled, not realizing at the time the impact that this event would have on her life.
Today, she is back, teaching World Literature and Senior Research Institute.
Nohely grew up in the East Menlo area, with the desire to go to college, although she had only a faint understanding of what college was. She grew up with her mom and younger brother, seeing her mother work various extremely demanding jobs and hearing her explain the importance of education.
"My mom never went to school in El Salvador," Nohely said. "She would tell me, 'I don't know how you're going to do it, but you're going to college.'"
With this strong and adventurous mentality, Nohely held her head high as a first-generation student. In elementary school, she became part of the Tinsley Transfer program, a local program designed to bus minority students out of the Ravenswood School District, to more well-funded neighboring school districts.
From a young age, Nohely's desire to work hard and succeed in school was recognized by many. After repeatedly driving by Eastside, she attended an open house. Nohely fell in love with Eastside, and it became her second home for the next seven years.
"I really loved how focused and supportive Eastside was about the students going to college," Nohely said. "And the teachers were some of the most caring and supportive teachers ever. That was really encouraging and inspiring to me."
At Eastside, she quickly identified her love for literature.
"I knew I wanted to be a high school English teacher when I was in ninth grade," said Nohely. "I love reading and writing."
Although many people advise experimenting with different careers, Nohely found otherwise because she had a clear sense of a calling.
"Always follow the feeling in your gut that tells you what is exciting to you," she said.
Nohely went to Williams College in Massachusetts, a small liberal arts college with an environment that made her feel comfortable. She majored in American Studies and minored in Africana Studies and Latino/Latina Studies. In her junior year, she studied abroad at Oxford in England where she completed a major in English.
Although Nohely felt a little guilty and sad when she moved across the country, she maintained a close relationship with her family, knowing that she would eventually return. While she was in college, she continued to support and help her mother in any ways she could.
Just as she had imagined, Nohely returned to Eastside to teach in 2018, subbing in the junior American Literature class. Last year, she became a full-fledged teacher with classes of her own, and this is her first year teaching in-person.
Nohely loves music and calls herself Kendrick Lamar's Number One fan. She also enjoys watching movies with her brother in her free time. She loves going on long walks and, of course reading, and hopes to one day travel with her mom to El Salvador.
Nohely said her goal is to be of service to the students. Asked what she would like all of her students to know, she paused to think about her main message, then said with passion and intent, "It's okay to feel all of those bad feelings like guilt and failure sometimes, but those are the moments when you can go talk to someone you look up to."