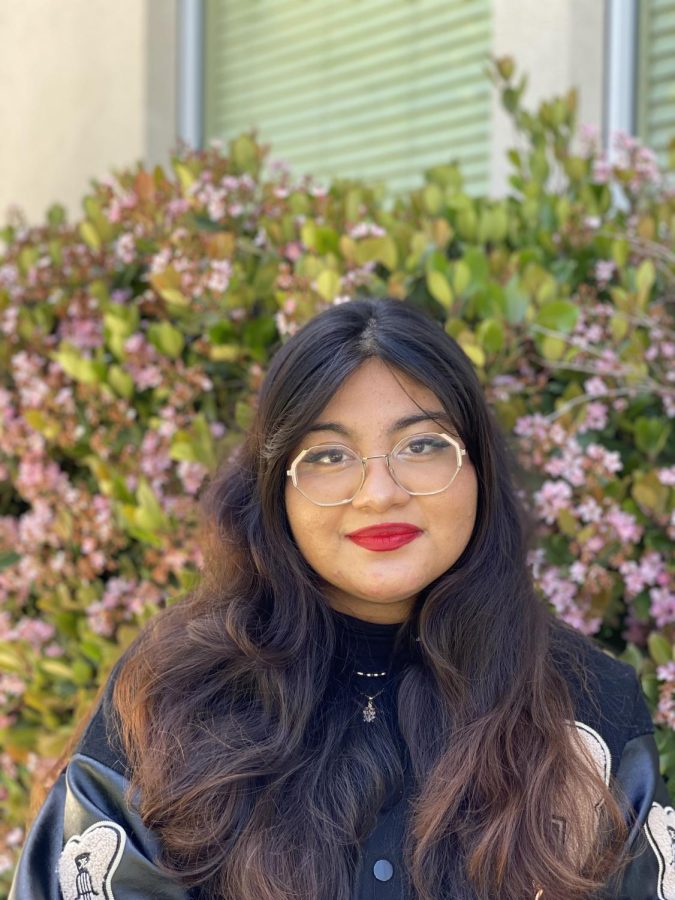 Photo by Diana Gomez-Ochoa
Indira Villeda
Have you ever walked down the hallway and noticed a girl wearing a long tan trench coat, a fancy blouse and skirt, and some beautiful heels to top it all off? You were probably in the presence of Indira Villeda. Indira's eye-catching fashion is one of the many creative ways she expresses her emotions. 
"I am the most me when I'm pursuing something creative," Indira said.  "Creating stuff is my thing. I am a creator. I am a visionary."
Indira has pursued many creative endeavors in high school. She created an anthology of poetry in Creative Writing class, and created fashion clothing in Art. 
"Eastside was my dream school," Indira said, reflecting on when she applied in 8th grade. "I think I will always see Eastside as that place where I grew so much."
As Indira felt herself growing, she helped others, like longtime friend and classmate Lizette Hernandez, grow as well. 
"Throughout the years, we've always been there for each other," said Lizette, thinking back on their seven years together, since middle school before Eastside until high school graduation. "She's been like an older sister to me and we have grown a lot together." 
Those closest to Indira admire her creativity and passion for the arts. Roommate and close friend, senior Esmeralda Lopez Blas, describes Indira as explosive, creative, and unique. Esmeralda, who became friends with Indira in the dorms in 9th grade, is excited to grow their close bond as they head to college – together – to San Francisco State University, where Indira plans to study Graphic Design.  
"It's so exciting!" Esmeralda said. "Everything [with Indira] is a key memory every day." 
Indira said she will miss the Eastside community and her friends, which made her feel safe and supported. 
"I'm leaving the nest," Indira said. "My friends have really motivated me."