Care Project Resumes with Fewer Requirements
April 6, 2022
"Seeing the kids excited and happy to see me just made me feel very happy," said junior Makayla Thompson of her volunteer work at Rise. "It made me realize the impact Eastside students volunteering are doing."
Makayla's volunteer work is a sign that the annual Care Project for juniors is back in force. After a break during remote learning, students this year are required to complete 12 hours of community service for their Care Projects, about half of the requirement before Covid-19 hit. The idea is to focus on a single organization rather than assorted community service events, in order to create a deeper connection and reflections they can present to younger students.
Student Coordinator Amairany Fuentes said community service gives students a competitive advantage in the college admission process, but ideally it becomes something students are passionate about, not just to fulfill the requirements.
"We hope for students to find a passion through the Care Project and to continue to be involved," she said.
Some popular community nonprofits where students volunteer at are Bloom House, Boys and Girls Club of the Peninsula, RICE, and Grassroots Ecology. Junior Gilberto Virutta volunteers at Bloomhouse, which helps the City of East Palo Alto bring community members together through events and resources.
"You can help out with organizing, like they have this event called family night where students and their family can come and unite," he said. "Bloomhouse even offers the opportunity to receive help on your homework."
Makayla has been volunteering at RISE since her freshman year and feels she has grown through the experience. RISE provides after-school learning and enrichment for elementary and middle school students. A typical day for Makayla includes helping students with homework, checking in on them about how their day has been, and passing out snacks.
"Freshman year, I was shy and would rarely interact with the kids, but now I feel comfortable whenever I am there," she said. "It's a way to connect with them and give them insight on bonds that can be built with students like me."
Since last summer, junior Uriel Vasquez has volunteered at the Boys and Girls Club of the Peninsula, which aims to empower youth with equitable access to social, academic, and career opportunities.
"BGCP is a great place to volunteer because of the staff and the community BGCP builds," he said. "Being part of BGCP is really great because of the new learning you receive when it comes to working with middle school students."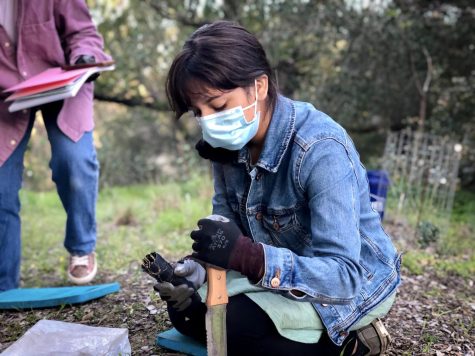 Working with younger students isn't the only way juniors give back to the community through the Care Project. Junior Stephany Urbina-Diaz is active in Grassroots, a local organization that focuses on connecting local people with outdoor spaces and taking action to improve the natural environment. On a typical day, Grassroots might do things like remove weeds and plant non-invasive native plants.
Stephany decided to join the program because of its initiative, its hands-on activities, and as a way to meet people outside the school community.
"With different students from different schools, I thought it would be nice to meet other people and work together," Stephany said. "I also really like the idea that we're all planting as a community because it really emphasizes teamwork."
Gilberto said the key to a successful Care Project experience is to find something you are interested in.
"Do something that really grabs your attention," he said.