Encanto Wins Hearts and Eyes
February 18, 2022
One sunny Sunday afternoon in January, junior Yesenia Machorro came running into the girls dorm,
"Guys, guys, look what I have," she said, unrolling an Encanto poster, her eyes filled with excitement. She promptly hung the poster on her wall, right across her bed over her desk.
"I really loved the movie, it touched me," she said. "Overall, it's a beautiful movie with a beautiful story behind it."
Yesenia is not the only Eastsider who enjoys Encanto. Students point to its music, the importance of family and the story of a child who feels out of step with their family, as reasons why they love it.
In a recent voluntary poll, 23 of 26 respondents rated Encanto a 4 or 5 on a scale of 5.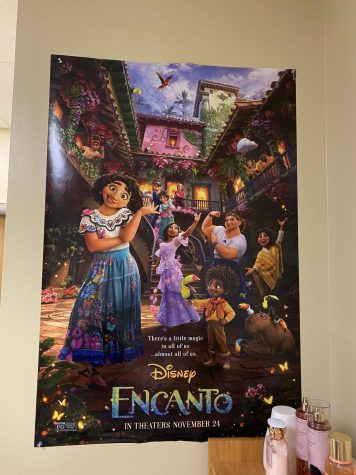 Encanto is an animated musical film directed by Bryon Howard and Jared Bus, released last November. It tells the story of the Madrigal family, who live in a magical place in the mountains of Colombia, and 15-year-old Mirabel, who is the only one in the family born without an "encanto", a magical charm.
The soundtrack, composed by Lin-Maniel Miranda, is catchy and memorable: the song "We Don't Talk About Bruno" ranked No. 2 on the Billboard Hot 100, surpassing Frozen's "Let It Go" as the highest-ranking Disney animated-film song.
"The music throughout really hit emotionally to the viewers." wrote senior Billy Rosas in response to the poll. "The scenery of the movie allowed for the viewers to really get to know the location of the town."
Junior Gisell Aquino highlighted the culture and family in the movie.
"The symbolism of family is shown in the movie, and family is very important in Latino culture," she said.
Students also said they can connect to the movie personally, through Mirabel, the child who feels out of step within her family.
Freshman Jojo Flores relates to Mirabel, as "the black sheep of my family."
"Everyone in my family is different from me," Jojo said. "Basically, I'm kind of unique from them."
Freshman Ula Pineda also expressed a strong sense of personal connection with Encanto.
"This (movie) causes a huge connection for me because often I get scolded for trying too hard, or not trying hard enough when really, all I want to do is help with no intention of harming anyone," Ula said.
Yesenia said it makes her happy to see her Encanto poster on her wall.
"Encanto has a special place in my heart, and it's something I want to see," she said. "It's the thing I see before I go to bed and remember that at the end of the day, I have family with me."