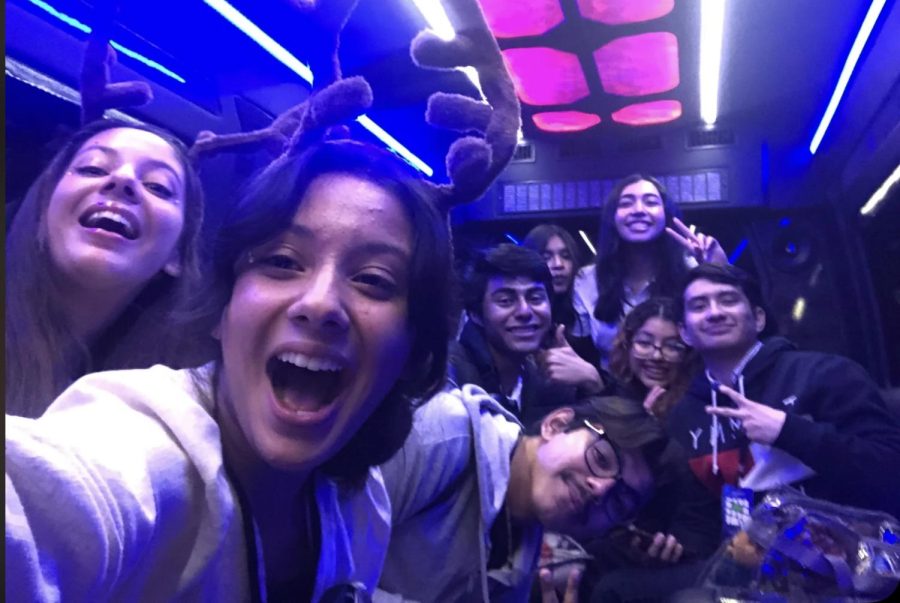 Photo by Jocelyn Urbina
Building Community: Coming Together Through Field Trips
Students, staff and parents enjoyed seats at Disney's Frozen musical thanks to Champion Charities, an organization that raises money and brings people to family-oriented "Night at a Theater" events.
On Dec. 3, several dozen Eastsiders attended the show at Orpheum Theater in San Francisco. Students from other schools including Sacred Heart Prep and Menlo-Atherton High also attended.
Champion Charities has been hosting such evenings since 2004, when they first brought families to Lion King.
Students enjoyed the musical – a story about two sisters, one with magical frozen powers who becomes queen after the death of their parents and lets her powers get the best of her emotions. The story develops into a story of true sisterly love and the power of being vulnerable and confiding in your loved ones during difficult moments.
The crowd oohed when Olaf, a snowman the sisters had created as children, was brought to life as an actor who was manipulating an Olaf puppet. The deer, Sven, one of the main animal characters, was also a big favorite, as he galloped on stage as an animated and lively deer, almost unhuman-like, despite being played by a human actor in a uniquely crafted deer costume.
When the familiar songs from the original movie played, "Do you Wanna Build a Snowman," many Eastside students spontaneously sang along, drawing attention from the rest of the audience, some of whom turned in their seats several times. This created a sense of community and unity among the students, who found themselves singing along at a high volume, despite the attention they drew.
"Vivi and I were like, we need to sing, it was a childhood movie," said junior Ashley Kaage. "I had watched the movie like, six times, so it was nice to sing."
Ashley was one of a few students who responded quickly to the invitation that Principal Chris Bischof shared by email, and they were given VIP access. They got to do extra things before the show, such as riding around San Francisco in fancy shuttles to taking selfies with Anna, Elsa and Olaf, to making crafts and enjoying endless food and drink.
"I feel like it brings Eastside closer," said senior Brandon Perez, who was among the VIP students. "I talked to some freshmen I've never talked to before, and I feel like we can all collectively go back to school together and talk about how fun it was the next day. That experience became our bonding moment."