Photo by Juan Ibarra
Building Community: Fall Variety Show Builds Collaboration
Fans and family members packed the Theater for the first ever Fall Variety Show, where students presented from all the arts electives. As the name "Variety Show" indicated, the event included a wide variety of content, from Advanced and Digital Art, Photography, Music, Dance, Drama, and Creative Writing, even including a few special songs and spoken word performances.
The show opened with a slideshow of artwork – digital art, clay sculpture and painting – while peaceful music played in the background.  Junior Bryan Minicitar, who is in his third year of art, was showcased, highlighting work that showed a strong anime influence.
 Words have power.
Junior Johnathan Clark presented an original poem, "Life," that quickly broke off into a dance to "Rhythm Nation" by Janet Jackson. Sharing his vulnerability through his poem and performance led him to feel more confident, he said.
In the weeks before the performance, Johnathan decided to combine his experience in writing, dance, and drama to express things he was going through at the time. He had been feeling scapegoated at school and was struggling with friendships and suffering the loss of his father at the same time, he said.
Johnathan chose to dance to "Rhythm Nation" because it refers to a scandal that Janet was blamed for although it wasn't her fault. Not only did he dance to her song, but he also combined his words and hers into his poem.
"Because I write about my pain in Creative Writing, I wanted to write something where I could connect to my own pain but also to the pain of Janet," he said. "Having [the poem] be recorded and be played through the speakers let me know it was my time to shine."
Johnathan also performed a spoken word he had written, which ended with the line, "Pushing through a world of color lines," which he spoke in unison with Creative Writing teacher Tina Ehsanipour. Johnny said he appreciated working with his mentors like Tina and Dance and Drama teacher Amy Connors.
"I'm lucky to have [Amy] there because she sees me go through things in both classes and Tina motivates me to keep writing," he said.
 Dance around the world:
The crowd reacted with cheers and excitement to the dance performances by  three groups of students in Advanced Dance. Seniors Jocelyn Guzman, Ashanti Gardner, and Arliet Bac danced in an Arabian-inspired style to Beyonce's "Beautiful Liar", while others danced to "The Hills" by the  Weekend and Latin-inspired music like Taki Taki, by  DJ Snake – When moments got spicy and exciting, the audience cheered and frantically waved large posters showing junior Shayley Valladarese's name.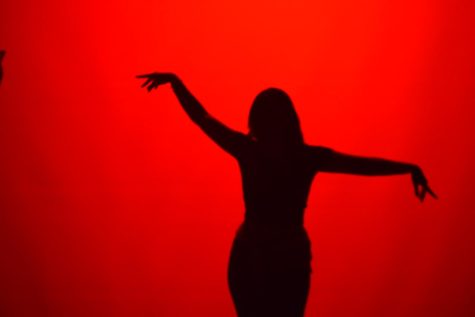 The performances became more and more eye-catching with the change of warm background tones and the flashing of lights that synchronized with the music. This year's unusually large Dance class had broken into smaller groups that performed separately because of the limited space for rehearsing together as a large group.
Break a leg
As the curtain rose on The Murder at Brantley Manor, the crowd buzzed with excitement and joy. The twists and turns in the play delighted the audience and people's laughter filled the room afterwards.  Ten wonderful actors performed, including sophomore Kamila Perez Salgado, who played characters in both of the two plays that were performed.
"There's a rush of adrenaline at the very beginning that makes you perform so well!" she said.
In Diamonds in the Rough, seven lost "campers" go on an adventure and end up turning on each other. The repeated back-stabbing by the characters left the audience speechless, and the ending itself "was not expected," said freshman Dontae Gardner.
Both plays discussed murder and included a lot of plot twists that grabbed the audiences' attention, and also ended with important moral lessons. The first play's lesson was that the lust for money and power leads to destruction. The second said that if you ever think life is unlucky, just remember that it really is for some of us!
Feeling through sounds:
The several performances by Music students all included the piano. Sophomore Josue Riz performed a solo of "Runaway by Ye", a song with an emotional melody that he played in sync with a slideshow of work from Photography students. As his piano intensified, it seemed as if the photos on the screen also intensified. Then, a group of Band students- sophomores Aldo Cansique Leon and Rayhaan Mohammed, juniors Jennifer (Jenny) Franco Magana and Britney Castillo Suarez – performed an original stage song while other Photography images played on the screen in the background.
Sophomores Angelica Pineda and Keiki Leni (Rhonda Ward) and junior Lorena Geronimo performed as vocalists. Lorena sang "I'm Not the Only One " with Music teacher Jansen Verplank playing piano accompaniment.
Keiki performed an original song called "Elusive". Before she began, Keiki explained to the audience that she uses different stage names and thought of one for this performance that has helped her transition easily into expression.
"When I'm at school, I go by Stassie," she said. "It was this door opened to self-expression, it was like a thread pulling me into creativity and finding the common vibrations that create the undertone to my lyricism."
Keiki shared she is a natural daydreamer, and daydreaming is one of her coping skills and a place where she finds her words, which is what her song was about.
Her song used a lot of air and space references, including "flying overseas", "Mars", and the words "space, sky and fly", capturing her daydreams about flying away to different places.
Keiki participates in both Band and Dance, allowing her to seek her passion.
"I don't have to be famous, it's just something I like to do," she said. "Writing for my songs is like picking out my outfits: You can switch up your words, and it's wordplay."
Across the arts, the Fall Variety Show displayed the value of students finding expression through their artistic passions.
"Find something that you're actually passionate about and don't try to please people," Johnathon said. "I do what feeds my soul by not letting anybody break my soul."