New Programs Thanks To Parents and Students
February 15, 2023
Parent Volunteer Teaches Guitar
Have you ever wanted to learn guitar, but did to commit to joining a band and performing in front of school, or your schedule during school hours just hasn't allowed you to put learning an instrument on your to-do list?
Thanks to Roberto Yopihua, the father of junior Jose Yopihua, students are now meeting after school on Thursdays and Fridays to take guitar lessons. These lessons require no prior experience, and are beginner friendly for students who don't know where to start.
"The guitar is the base of all the instruments," Roberto Yopihua said. "If you learn how to play guitar, you can learn piano, or whichever instrument."
The school provides the guitars and will lend them to the students to take home and practice. Because the lessons are after school, students who are busy during the school day can still attend.
"I've always wanted to learn guitar," said sophomore Angel Fernandez, one of nine kids taking the class. "I just never have time, but these lessons help me stay consistent."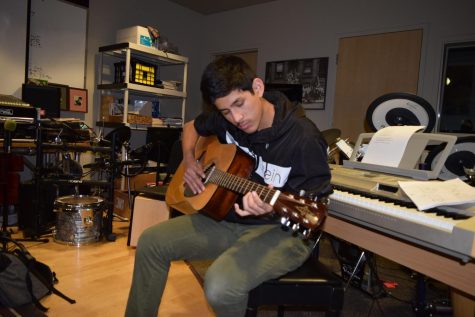 Freshman Marley Shanchez-Cuevas said that when she got the email about guitar lessons, she immediately signed up.
"I've been wanting to learn more about how to play, because my cousins do, and it looks fun," she said.
Students describe the class as easy going and interesting, and with the time passing by fast, some find it hard to believe the pr
ogress that they are making.
"They are already learning and it's very fun because they are learning new things," said Roberto. "It is like I thought, the results are very obvious."
Juniors Bring VR
Juniors Daniel Flores and Ramon Garay, the founders of Code 15, have partnered with the San Francisco non-profit MissionBit to bring Virtual Reality to Eastside.
The new Virtual Reality class started on Feb. 6 and meets after school until May 12. The class will introduce students to coding using C# and the application of the skills will vary from student to student. Eight students signed up and they are meeting twice a week.
Daniel and Ramon started the VR class in order to bring new opportunities to campus.  Daniel said he wanted to share his love of problem solving with others. Ramon said that he wanted to diminish the diversity gaps in the field of computer science, where minorities and women are underrepresented. MissionBit shares this goal as it focuses on inspiring youth of color by introducing computer science education.
VR can be used as a tool of discovery and as a tool for developing new skills in computer science and coding.
"VR isn't just about games," Ramon said.