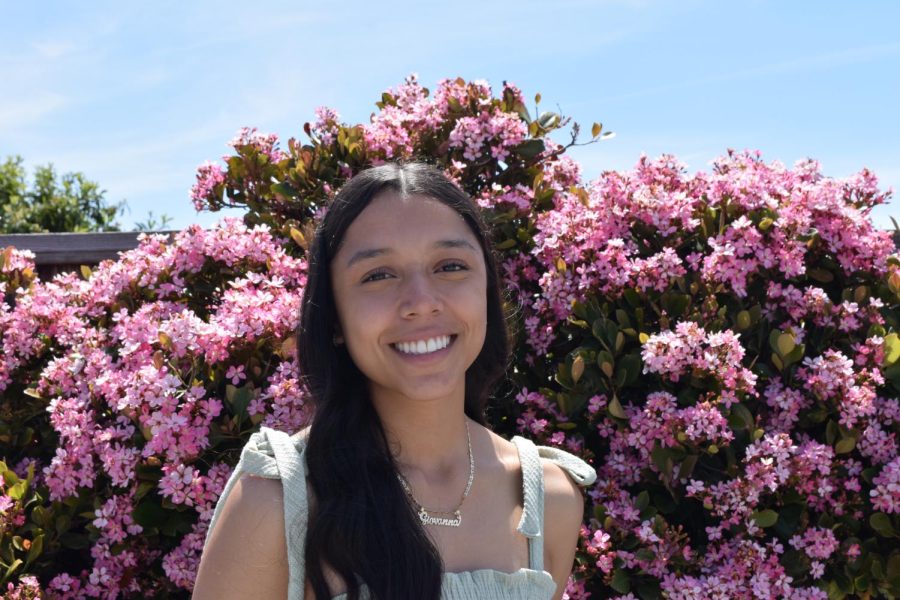 Giovanna Cruz
Giovanna (Gio) Cruz is known for speaking her mind, her sense of humor, and her outgoing personality.
"Once you get to know her, she will change your life. I can assure you of that," said her best friend Melanie Angulo.
Gio values both her family and academics, and is hardworking and motivated.
Growing up, Gio always had a passion for her father's ranch, especially the horses. She enjoys going to the ranch throughout the week and looks forward to the weekend, when she can hang out with the horses, cleaning them, riding them, or taking care of them in other ways.
"I like to go on the weekends," Gio said. "You don't have to worry about school anymore."
Her love of horses inspired her career goals.  She plans to major in Animal Sciences at California Polytechnic University, San Luis Obispo.
Senior Rubi Rodriguez, Gio's close friend, admires Gio for her academic dedication and values their friendship because it has grown over the years.
"Her smile, like, it just makes you, makes me smile," said Rubi.
Gio feels thankful for the access to many opportunities and the strong connection with teachers she built over the years, especially since she found that teachers reach out and encourage students to seek help. She likes how students bond over the struggles and stresses of assignments and find ways to support each other, whether by making jokes or just being there for one another, mainly because everyone shares the goal of going to college.
"I'm going to miss having people holding me accountable because I know college is a whole different thing," Gio said. "You have to like working by yourself."
Gio hopes to become more independent, to join clubs and organizations for the comfort of a community, and do things she enjoys, such as horseback riding or Rodeo team.