Prom Sets Sail!
May 12, 2023
Prom became a common topic on campus weeks before the date and after. People talked about their outfits, transportation, and prom itself.
It finally happened, on May 6 on a yacht in San Francisco Bay under the stars with dancing and food. The yacht left the Alameda dock a little before 7:30 p.m. to sail the bay and returned an hour before midnight, ending the chilly night under the shining stars.
"The prom was lit, and the energy was definitely there," said freshman Vassidy Allen, "especially on the dance floor."
At first, it took a while to board the yacht, and set sail, some party-goers said. Also, a lot of partiers felt dizzy and a bit seasick when the boat turned or lurched on the waves. Tables were set with silverware and folded linen napkins, and the room was strung with twinkly lights, creating a fancy atmosphere that matched everyone's fancy dresses and suits. The buffet included salads, pasta and bread, which some attendees liked and others called "bland". When the dancing started, so many people filled the floor that the windows completely steamed up.
Many traditions go into prom season: promposals, prom dress and suit shopping lining up to buy tickets, and actually attending the prom. Behind the scenes, fundraising is one of the most important things.
This year Flor Rogel and the Prom Committee held two fundraisers. On April 6, the committee had a pop-up shop in front of the performing arts center selling stickers made from student art. Students swarmed Flor's office to pay for their tickets and crowded around the art sale fundraiser. Earlier, the prom committee held another pop-up at Coffee and Water Lab in San Jose, which drew a great turnout.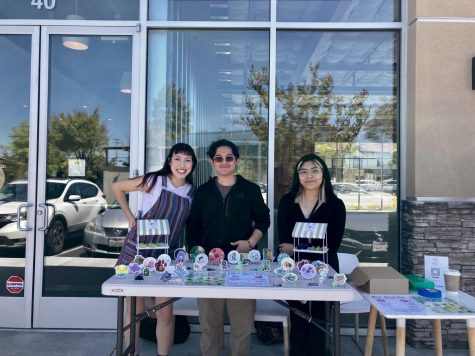 "Many Eastside students and teachers showed up, and even those just entering the shop bought some of the items," Flor said. "We ended up selling out of some designs."
Students have been seen putting these designs on their binders, water bottles, and phone cases.