Dance, Arts, Drama Bring Spirit to Campus
May 12, 2023
By 6:58 p.m. on April 4, the theater was almost full, with only a few open seats left. The lights dimmed, cheers and whistles rose from the crowd, and a rush of excitement and energy grew as the Dance classes presented their show.
The beginning and advanced Dance classes held their spring dance show on April 4 and 6. The Dance show was just one of the end-of-year arts presentations. Art and Photography classes had their exhibition on April 27 and the Drama class performed on April 26 and 27.
All of the dances performed were choreographed by the students. They varied from slow songs, to Hip Hop, Latin-inspired, retro, and folklorico.
Teacher Amy Conners applauded the students' enthusiasm for their work, which took two months to plan and put together.
"The difference between this dance show and other dance shows is their confidence and just being in the moment," Amy said. "The varieties and the different styles and music really spoke to that."
The Dance classes this year had 15 advanced students and 9 beginners, more than any year yet. Space was tight and practice was essential.
Amy had a system: the whole class would warm up together, and then break into groups where Amy kept them on schedule.
The seniors opened the show and also ended the show with a final combined dance, a tradition. Their dance was upbeat and each senior got a solo with a special and interactive surprise – seniors Arliet Bac and Jocelyn Guzman danced up the stairs into the crowd with a bubble machine. It was Arliet's idea to do something interactive, to leave something memorable behind.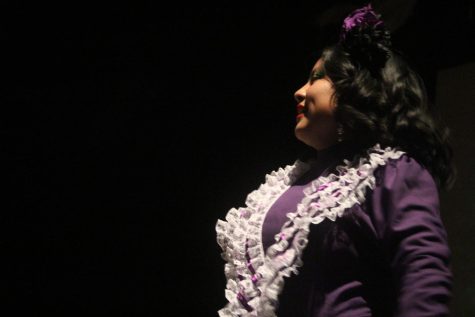 Junior Shaylee Valladares came up with the idea of holding a special presentation for the seniors on the final night of their performance, as a special goodbye.
"Over the years I've worked with them, I've seen some amazing work," Amy told the crowd on the last night of the Dance show. "At one point they were led, now they're leaders. At one point they were taught, and now they are teachers… Once they were growing up, and now they have grown."