Volunteering:  Meeting Requirements, Making Connections
Senior Evelyn Ibarra started volunteering in the Primary School After School Program in her junior year in the fall of 2019, partly as a way to meet her community service requirements for that year. This year, even though the requirement has been lifted because of Covid-19, Evelyn has been sticking with it, consistently helping at the program, both last semester and this.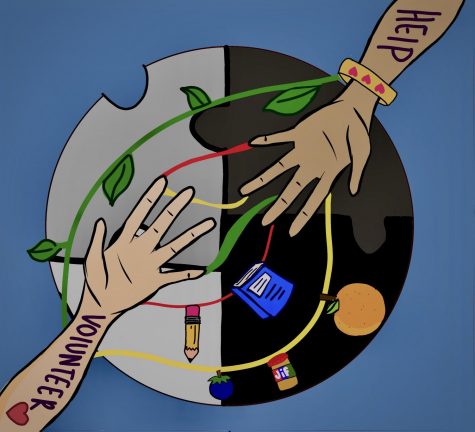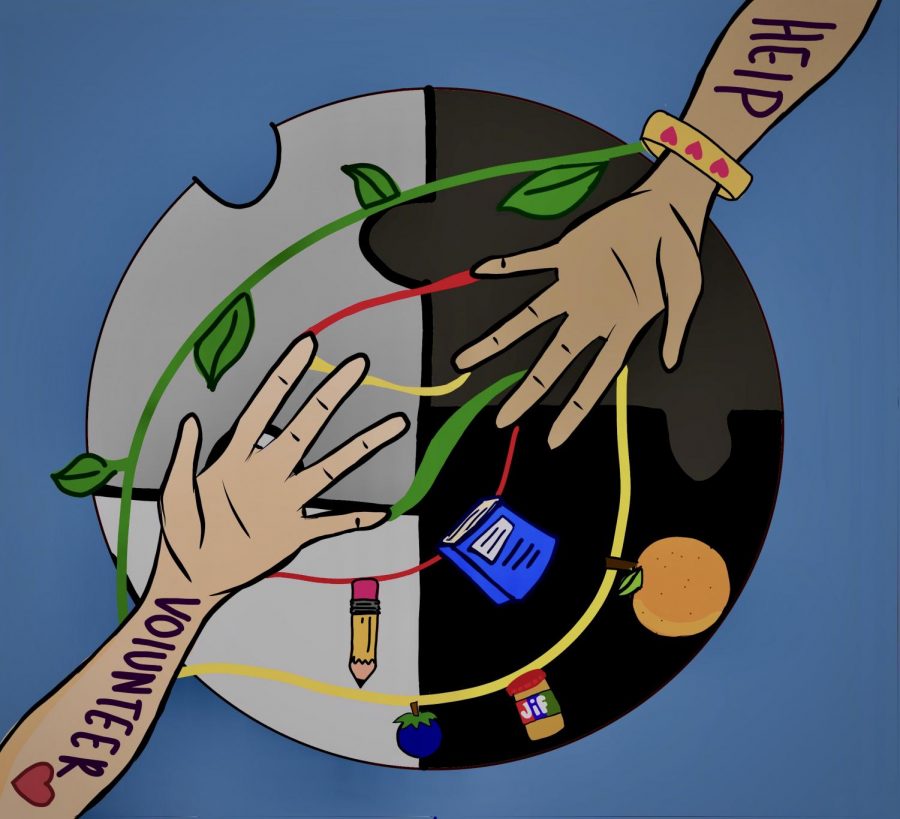 According to Student Service Coordinator Karla Garcia, as of last year, helping children in education or sports was one of the most common kinds of volunteer work students chose to do. This year, similarly, several students have continued to volunteer, especially in programs that help children in education, even if this year, the four activities of community service weren't required. 
"I think students want to connect with the community, so it's important for us as a school to continue to provide this opportunity," Karla said.
Although it isn't necessary to inform students about volunteer opportunities so that they could fulfill the requirement, Karla has continued to send out informational emails. 
In previous years, other popular volunteer opportunities  included helping out with food distribution and environmental improvements, such as helping plant trees with Canopy or doing habit restoration in nearby areas, such as Cooley Landing.
Students may be volunteering in such programs this year without letting Karla know, since students don't have to fill out forms this year to reflect on their experiences. Karla does hope to make a request for all students however, to email a list of activities,  if they participated in any volunteer work during distance learning. This will help students keep track of what they have done so that when they reach senior year, they will be able to describe where they have volunteered over the preceding four years.  
Karla encourages students to volunteer because students can learn from such experiences.
"It's a connection that's important during these hard times, and for students to continue to grow," she said. "There's a lot of growth that happens in community service that I don't think happens in a classroom setting. But I think it's important to have both aspects."
Students like Evelyn, who have continued volunteering in a certain program consistently out of interest are the heartwarming examples Karla has found pleasurable to witness. 
"I really enjoy it when it's no longer a requirement and students continue to volunteer or go above and beyond, or continue with the same program for many years," she said. "They clearly found something there, they found a connection." 
The connection Evelyn found through her experience with the primary school program, where she works one-on-one with an assigned student to go over homework and read, has been the people who work there and the flexibility she is given with her schedule.
"They care for you, especially Vita (the one in charge of the program), she's so caring and kind and she really does find a mentee that's going to fit into your schedule and is like you, so it's easier to connect with the student," Evelyn said. 
Sophomore Natalie Erazo has also been volunteering in the Primary School program. Similar to Evelyn, she volunteered in the program for a short time last year and then decided to continue this year, for both semesters, with the hope of finding a new interest and doing something different from what school offers. 
"I'm taking a step back from my school work and it's time for me to help others," Natalie said. "It's also just fun because I can make my own schedule and plan with my mentee." 
Not only that, but Natalie sees volunteering as a way to help figure out what she wants to do in the future. 
"For me, it's a great opportunity to see what options I have if I want to work with kids or in the education system," she said.
Of course, working with children under Covid-19 restrictions can be especially difficult. Evelyn and Natalie experience the challenge of keeping the children engaged and focused, since everything is being done on the screen. Looking back at when she volunteered in person, Evelyn remembers working outside, which helped her student stay awake, active, and attentive while they worked together. 
" In person, it was a lot easier to have connections and interact with the students," Natalie said. "This year it's a little challenging because we are on a Zoom call from 30 minutes to an hour. At first, they don't  know me and you are talking to someone on a computer, which is much harder to do."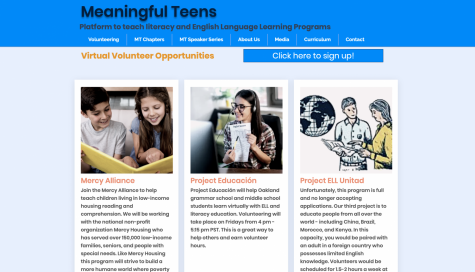 Not all students who are volunteering with children are working for the Primary School. Sophomore Stephany Urbina is volunteering with Meaningful Teens, who have partnered up with Mercy Housing to use Zoom and other online resources to train high school students to tutor elementary and middle school children  living in low-income housing  in reading and comprehension. Stephany volunteers every Wednesday from 4-5 pm, hoping to practice leadership skills through her experience.
"It was more of a leadership opportunity," Stephany said. "I've been really trying to work and branch out different clubs and activities that would shape me as a person or benefit me in some sort of way."  
Although this is the first time Stephany has volunteered for a program that works with children, Stephany chose to participate in this program because she has found she is comfortable with children, having spent a lot of time around children in her family. But most importantly, she joined because of the value she places on the importance of reading. 
"At a young age, once you learn to become more involved with reading, it carries onto the future," Stephany said. "I think it's important for children to have that step, and have someone help them with that step and make reading fun, instead of something that is challenging."