What's Cooking With Cal?
When Cal started his now famous after-school Zoom session at the end of the last school year after teaching his classes from his kitchen, his sophomores joked about what they thought Cal would cook and suggested he do a cooking show. He finally gave in. 
 "It's just really fun to get to see you guys in a really relaxed environment, I think that's something that we are all missing during the pandemic," Cal said. "It's the sort of thing that would happen during lunch or before class or after school – the time with students that I just don't get to have anymore because we're not around each other."  
Cal's cooking show has a particular focus: cooking foods that have "Cal" in them, such as CALamari or CALzones.  Also, he has kept his cooking show interesting from the beginning by making unusual recipes, such as chocolate-milk chicken, or pizzas with toppings suggested by the students.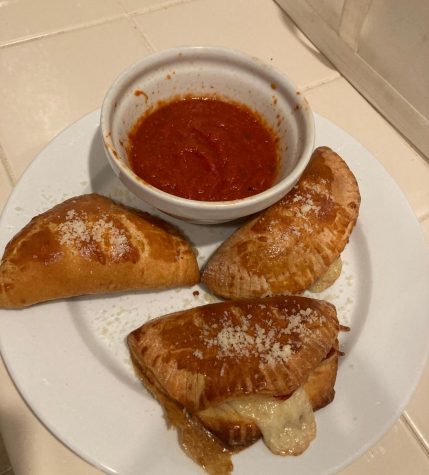 "I was very proud of my calzone." Cal said.
One of the most popular episodes of Cooking with Cal was his Korean BBQ. According to Cal, many other faculty members and lots of his students came. Students and teachers joked around as Cal made many different types of dishes, such as bulgogi.. 
Junior Henry Soria Torres went to the Korean BBQ Cooking with Cal episode, where he said his favorite thing was the environment. 
"Teachers were there and it was cool to see them out of teaching," Henry said. "Basically just seeing them chill."  
Junior Maya Saams-Hoy said she was encouraged to attend by a friend.
"I think I went just because he started them during distance-learning, and it was something to take a break from school work with," she said. 
Maya has gone to two episodes of Cooking with Cal. She said the fun in Cooking with Cal isn't just watching him cook, but rather the opportunity to talk to other teachers and classmates about non-academic topics. One of the most memorable moments Maya recalled was when AP Government, Macroeconomics, and SRI teacher Jaya Subramanian joined the Zoom, and she and  Cal continued their infamous teacher feud, in which they jokingly tease each other.