Welcome, Babies Isa and Ronen!
High school is all about routines – attending classes, doing homework, practicing sports. It's true for students and for teachers.
But two teachers have had their world take a complete 180 in the past few weeks when new babies joined their lives.
American Literature and SRI teacher Stacy Arevalo welcomed her first child,  Isabela Mae Yitzhakel, on Oct. 28. She explained in an email that for 15 years, her life had revolved around the school's block schedule, but not anymore.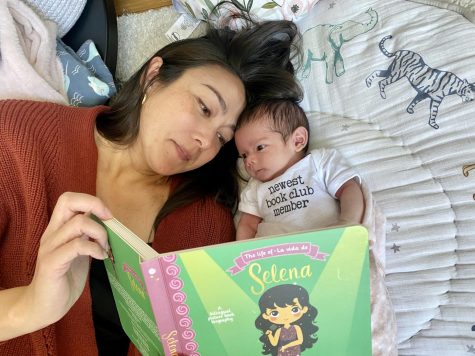 "Life right now is a total time warp. Some days 'start' at 6 a.m., others at 9:30 a.m.. Some days I've been up and at 'em for hours before you all head to school," Stacy said. "Other days I finally get organized enough to change out of my pajamas as you all are counting down the minutes to 5 p.m."
Although Stacy said that life with baby Isa has been wonderful, she noted that 12 hours into labor she faced sudden onset severe preeclampsia, a leading cause of maternal death, which she had learned from past students' SRI projects. Thankfully, Isa arrived safely and Stacy is more than grateful that she can spend time with her family and recovering.
"The fact that I can unplug from work because Nohely, Vibha, Tina, Jaya, and Helen are stepping in to cover my classes and Advisory is such a gift," she wrote. "I miss Eastside and know it will be wonderful to return after the February break."
A few weeks after Stacy, another baby joined the extended school community. AP Language and Culture teacher Sarah Kreiner's third child was born on Nov. 17, Ronen Hollingsworth Kreiner.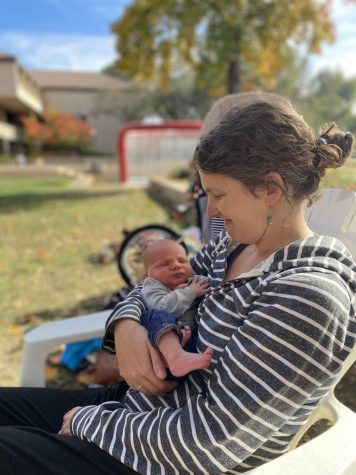 "Ronen is a Hebrew name meaning 'song' or 'joy' and is close to the more common Irish spelling, Ronan, which means 'little seal,'" she explained in an email. "I'm Jewish and my husband's family is originally Irish, so it felt like we were giving him a part of each of our heritages. Hollingsworth was my grandfather's middle name."
Sarah said that her two older children Ari (4.5 years old) and Eva (7 years old), follow him around, sing songs to him, take turns holding him and already wonder when they will be able to wrestle with him. For those wondering about Mr. Fox, whose little yaps are commonly heard around campus when he comes with Sarah, she said he is fine, enjoying resting, going on walks and snacking on the food that her big kids drop.
Overall, Sarah said that Ronen is an "easy baby." Aside from occasionally waking up at night and other typical newborn behavior, she wrote, "He is very sweet and snuggly and already growing and doing more. It is really special to have this bonding time with him."
Ronen can be found going on stroller walks, being sung to, having books read to him with vibrant pictures of animals and faces, and taking part in the lively household. Sarah looks forward to seeing her colleagues and students again when she returns in mid-March.