Blast to the Past During COVID-19
As quarantine reaches seven months of age, students and teachers alike find themselves reminiscing about "the good old days".  From learning new instruments to playing no-tech board games with their families, students and teachers are looking to the past to find comfort in the present. 
Back in middle school, junior Alondra Zamora took up playing the violin. She stopped during her freshman year, but recently she has returned to the world of music.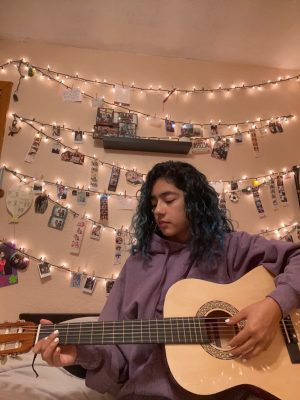 "I wanted to try out a new instrument and give my attention and focus to something other than social media," she said. "I always wanted to do these things but I just never gave myself the time." 
Alondra has been spending some time every week to learn her first song on the guitar, Fuentes de Ortiz by Ed Maverick.  
English Teacher Sarah Kreiner has been spending as much time as possible with her family, often just having fun in old-fashioned ways. Sarah has spent tons of time with her two children, ages 2 and 4, baking cookies, riding to the fire department, and even watching Bob Ross painting videos. Last month, her children returned to in-person school, so life has started to return to normal.
"I kept trying to look at it as a blessing in disguise to have all that time at this phase in their lives," Sarah said. "I think we'll remember it as a really magical time."
Other Eastsiders, like junior Aaron Cedeño, find themselves scrolling through old photos and going back to music that was popular "pre-corona", and they feel flooded with feelings of nostalgia.  

Loading ...
"It makes me think of how I underestimated how the presence of different people impacted my day," Aaron said.
Humans aren't used to the lack of social interaction, so people naturally look for comfort in familiar things and activities, to help cope with their feelings of loneliness.
"It's comforting to have in this time where so much is uncertain and when it feels like our world views are being assaulted in so many ways," Sarah said.