"Frankly in Love": Books and Trivia for All
Listening to one page read aloud was enough for freshman Johnny Clark to know Frankly in Love would be a perfect book for him. 
Through the weekly 'Featured Fiction Friday' emails sent by Creative Writing Teacher Tina Ehsanipour, Johnny heard Tina read the first page of this year's "School-wide Read" book and decided to check it out. 
"The book is just so emotional, the description and the way Tina read it stood out to me," Johnny said. "I love it so much. It's definitely one of my favorites now."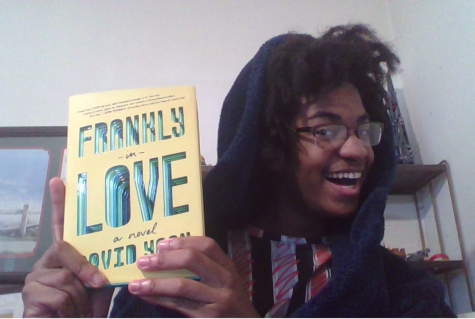 This year's school-wide read, written by David Yoon, follows the story of Frank Li, a Korean-American who falls in love with a white girl. His family resents the idea of dating people who aren't Korean so he decides to team up with a friend to fake a date and trick his parents so he can be with the girl he loves. 
"In the end you realize this is really more a book about identity and him kind of figuring out who he is in relation to his parents and his culture." Tina said. "It's a coming of age story in my opinion."
While some might read the title and assume this simply a love story, Frankly in Love also deals with social justice issues such as anti-blackness in Frank Li's family. 
"I think it's really exploring how anti-blackness exists in a lot of our communities and how important it is for us to address it," Tina said. "Yes, it's about this teenager having this coming-of-age experience thinking about his family, but it's also around issues of race and identity and how do we address those issues within our own families,  because I think those are our responsibilities." 
"It's not like a full on love story, there are a lot of dynamics," Johnny added. "It deals with racism and partially abusive parents who make their kids do something they are uncomfortable with."
Frankly in Love came to Tina at the perfect time for this year's School-wide Read. An organization called "We Need Diverse Books" had a winter giveaway for teachers looking for free books and Tina won 30 free copies of Frankly in Love! 
"I really like this author, and I was like, we have 30 copies of a book for free and he's a great author, so let's use this book!" Tina said. "It worked out really well." 
The eighth annual tradition of the school-wide read would not take a break, instead it would have to adapt to our new virtual setting. Previous school-wide reads would end with a book club conversation during lunch for students and staff to share ideas and talk about their experiences with the book.
This year, Tina decided to switch it up a little. With the suggestion from English teacher Amy Reilly, Tina chose to do a trivia night event for Frankly in Love. 
Trivia Night will take place on Thursday, Mar. 25 during lunch, and Tina has been hard at work finding prizes to add a bit more incentive for joining the conversation.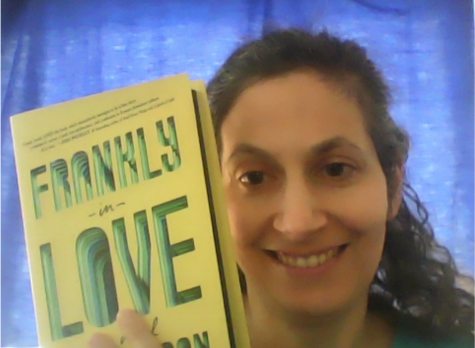 "The trivia will consist of answering questions from the following categories: Places, Characters, Relationships, and Random Facts" Tina said through an email.
Prizes will include books from Barnes & Noble and Kepler's, a gift card to the ice cream store Cream and even goodies from Trader Joe's. 
"I think it will be great," Johnny said. "I'm looking forward to hearing other people's views on the book!"
To connect over books, Tina has created a website where students and staff can check out books, watch past Featured Fiction Fridays and even join a book club! The Eastside Book Community welcomes all students who want to talk about books, and Tina hopes to expand the community to gain more student leadership.
"If there are students who have other ideas about what they'd like to see as part of the Book Community, or if they'd like to get involved in organizing things with me, that's the next step," Tina said. "I really want to work on bringing in more students into what we do with our Eastside library."  
If you decide to read Frankly in Love or want to get more involved with the Eastside Book Community, feel free to email Tina and chat about what possibilities are out there to explore a passion for books, at [email protected]