Dorms: Community Building Over Zoom
One of the pleasures of living in the dorms during a normal year is the tight connection that dorm students build with each other and the Residential Faculty through living together and bonding activities. Now, the dorm community has continued to foster those important connections — through Zoom.
Monday through Thursday, the nine junior girls on RF Jemima Oso's hall gather for a "daily huddle", a check-in to make sure everyone is doing OK. Then, on Fridays when there is Advisory, Jemima eases the girls into the early morning meeting with a check-in question, such as describe your mood with a form of media, similar to the questions they discuss in their daily huddles. The girls get creative, using Tik-Tok, memes, and other media to answer.  The rest of the meeting includes fun activities, like meditation or different games, based on the girls' interest.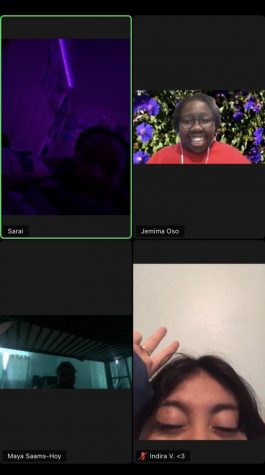 These are among the ways the dorms are adapting to the online environment to stay connected with students during distance learning.
Jemima said one of the biggest challenges of distance learning is finding a balance between keeping up community and interactions with one another, while still trying to give students a break from Zoom. 
"(It's) trying to find a balance of not keeping [the hallway] on Zoom too long, but realizing the only way we keep in contact is over Zoom," Jemima said.
Sophomore RF Maricela Garcia stressed how much she misses seeing students face-to-face and emphasized how important that can be to building relationships. 
"When I wanted to be an RF, it was having those relationships, talking to them, and supporting them, letting them know that I'm here for them," Maricela said. "I was really excited about that, I was like 'Oh man!' this happens now when I'm ready."
Students also miss the in-person contact but appreciate the efforts of the RFs.
"I miss the sense of community. When I had a bad day at school, the one thing that I looked forward to was our community times with our halls," said senior Terriona "TeeTee" Reed, But, she added, " I love how understanding [the RFs] are with all the difficulties that we now have with WiFi, cameras, etc. When a teacher or RF is understanding, it just helps the students feel less stressed about what the teacher is going to think of us."
 For the junior boys in the dorms, academic standing determines what the conversations look like during Advisory. Junior David Martinez said that in the boy's dorm,  the focus is on work, not community-building. Although boys can approach their RF about anything and have a good talk, the outreach from the RF focuses on academics, he said.
"The only thing he talks to us about is work," David said.
Addison Partida-Vasquez, the junior boy's dorm RF wants to emphasize the transition from earlier years of high school to the more important years by giving his hallway more space and independence to learn and create their own habits over the course of COVID-19.
"With the juniors, it's a little bit tricky just because as they're preparing for senior year and college and stuff, we want to grant them some more independence," Addison said. "So on the one hand I'm like, 'I really want to talk to you and spend some time with you,' but on the other hand, we can't spend time together physically."
Head RF Darren Chan said that unfortunately, Eastside dorms are like the rest of the world, where "interaction is reduced to what Zoom can offer." It may be weekly Advisory sessions or one-to-one meetings through Facetime or Google Hangouts, but "most community engagement is still happening online."
Still, the RFs did manage to pull off a tangible bit of support for their students at the end of last semester, when distance learning had interrupted the spring semester so abruptly.
"At the end of spring semester, the RFs prepared care packages for the students," Darren said.