Annual Food and Toy Drives Return With Changes
The annual Toy and Food drives run by Interact Club returned this year, with a few changes.
As usual, members in the Interact Club helped create and hang posters announcing the drives, and several helped send out emails to remind the school about donating to boxes set up in the office. One new thing this year was hand-crafting the cardboard collection boxes for the Food Drive, and donating the food collected to the Ecumenical Hunger Program in East Palo Alto rather than the Second Harvest Food Bank.
Second Harvest Food Bank was only accepting online fundraising donations due to COVID-19, so Interact Club advisor Linda Filo contacted EHP.
"I'm thinking maybe we should do it more often because it's our own neighborhood," Linda said.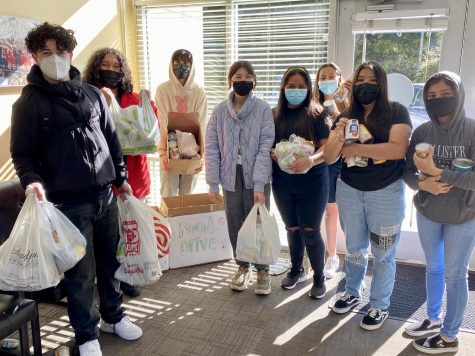 Interact Club president, senior Christopher Guerrero, was surprised by the outcome of the Food Drive, which ran from Oct.18 until late November. Donations from mainly students and staff filled up the whole front, back, and middle of a white van. Seniors who had 7th period free delivered the food, unloading the van and filling up a giant bin at EHP.
Christopher said it was a great experience to see what was going on, assign roles, and even collaborate on decorating donation boxes.
" I know it was a minor detail, but it added to the event", he said. "It added character to it rather than just saying, 'Put food in a box.'"
The Toy Drive began on Nov. 22 and continued until Dec.16, in partnership with Menlo College's Rotary Club. Rotary Club members zoomed into Thursday Interact Club meetings during lunch to discuss progress and next steps. The partnership started last year, when many turned to online giving. Linda hopes this year's drive will match last year's success.
"I'm hoping, but you never know because last year  I think a lot of people were giving and were generous because of COVID," she said. Everyone was ordering on Amazon like crazy."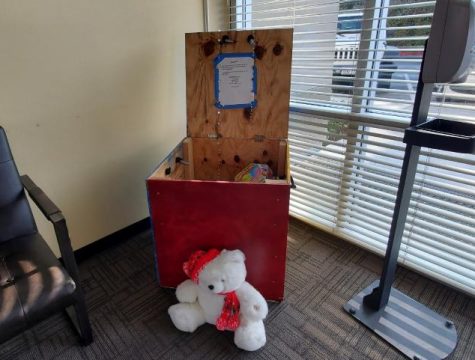 Interact Club member freshman Ray Mohammed has been helping send school-wide emails to remind the community about the Toy Drive. This is his first year in the club and he has enjoyed being in an environment where people come together for great causes and help people in such a "kind way."
"I'd like to see a lot of donations so we can help people and I'd like to see how much it really helps," he said about the Toy Drive. "I want it to be huge."
The next drive that the Interact Club hopes to help coordinate will be the annual Leukemia Blood Drive starting in January, but it isn't guaranteed because of COVID and safety concerns on campus.