Summer programs build skills, create special memories
Senior Luisa Soto built an unforgettable memory in Costa Rica over the summer, the kind that proves it's the little things that sometimes make the biggest impressions.
Luisa was showering when out of nowhere the water shuts down," she said. "I go to the boys bathroom, and apparently one of my friends was sitting on the sink, which caused it to break, which caused the pipes to break and shut it down."
Luisa's water adventure happened in Costa Rica, where she participated in the environmental science branch of the Amigos summer program. She was just one of many students who spent the summer doing meaningful programs abroad, local internships and college classes on campus.
Planning a student's summer to maximize productivity can be stressful and complicated, and even though it is only November, the process will start soon. Student Resources Coordinator Amarainy Fuentes works with families to find suitable activities that will help students prepare for college. This past summer, Eastside offered classes in the arts and three community college classes through partnership with Foothill College — Psychology, Statistics and Chemistry — and 46 students attended these virtually.
Among the adventurous leadership programs offered was the National Outdoor Leadership School (NOLS), which leads extended wilderness expeditions to teach environmental ethics, technical outdoors skills, wilderness medicine, risk management and judgment, and leadership. Two current juniors — Betsabeth Cacho Lopez and Alondra Lopez — spent 30 days in Alaska, backpacking through part of Alaska and exploring different environments, from snow-capped mountains to sunny beaches.
Alondra said the experience was "eye-opening" because it taught her to care about nature and not take it for granted. Also, she said she gained confidence and finds that now, back at school, she participates more in class discussions and tries to put herself out there.
Alondra said she was nervous at first, but worked through it, learning to use the resources at hand.
"For instance, there wasn't an oven, so we had to adapt," Alondra said. "You don't know what's going to happen, but it just goes and you find out."
Junior Angie Perez had a different kind of month-long intense teamwork experience, on a technology internship at Facebook. Students collaborated to develop an app while also building their knowledge of computer science in general.
"For the first couple of weeks, we had coding class for an hour and a half, and then In the afternoon, we would have another class, like finance, open arts, and workshops," she said. "This program will show you jobs outside of just coding within tech companies."
Amairainy organized a series of summer opportunities showcases over the past several weeks to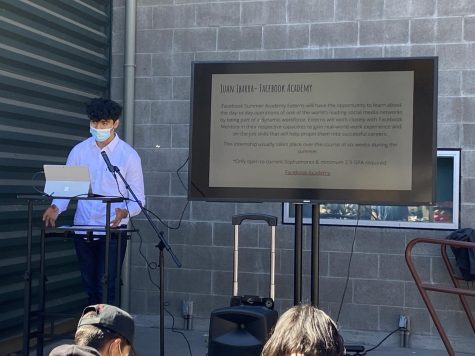 introduce these and other activities to students. And it won't be long before next summer's planning and applications need to start. For Amigos, for example, Luisa completed a months-long process, including applications with essay questions, winning scholarships, fundraising, and attending training on weekends. In the end, the experience of community service, from cleaning beaches to saving turtles to teaching English, made the effort worthwhile.
"I'm glad I went to this one because I got to express my knowledge in a way," Luisa said.
As Alondra said about NOLS, "It's a rewarding experience, you grow so much in yourself, meet many people, connect and bond with them, and overall, just enjoy the power of nature."